What comes to your mind when you hear the word "tiger"? Just by imagining its' voice, it scares you off, right? But this time it's a bit different. There's a tiger statue at one of the Military Districts in Cisewu, West Java, that will make you question anything you think you know about tiger.
The tiger statue didn't look scary at all! Instead it was cute, funny and would make your heart flutter. Seeing this as a unique material and content to share, someone took a picture of that tiger statue and uploaded it to social media. And of course, since social media has this ability to spread any news in no time, this picture of tiger statue went viral—maybe even more popular than that selfie you posted on Instagram.
There are also a lot of memes made about this famous tiger statue. We bet you can't hold your laughter when you see one. Besides, the statue's cuteness is just inevitable.
The thing is, tigers are supposed to be scary, with all those strong jawbones and canines that are ready to kill any prey. But that's not what you would find in Siliwangi's tiger statue. Instead of having a strong jawbone and scary face expression, its mouth was so big people even thought it was smiling at them. This is what makes the tiger statue looked funny and cute. We mean, who would feel scared by a smiley little tiger like that?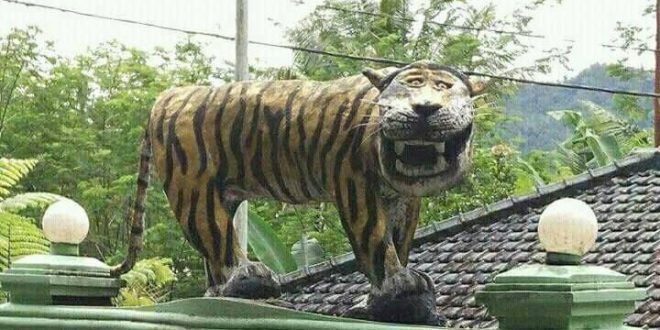 Since the picture of this tiger statue was uploaded to social media, its popularity has gone off the roof. In less than four days, the words "patung harimau" (tiger statue) gained 14,562 total buzz throughout March 12th to 15th. There were also about 199 posts talking about this topic, in which 137 of them were from news outlets. Meanwhile, on Facebook there were 33 posts that generated 13,483 likes and 282 shares.
Due to this viral statue post, Panglima Kodam Siliwangi Mayjend M. Herindra issued a command to destroy that tiger statue. According to Kapendam III Siliwangi Letkol M. Desi Ariyanto, the tiger statue's face expression doesn't represent the brave image of the Siliwangi Army. FYI, Siliwangi is the name of one of the kings in Indonesia who once ruled the Land of Sunda years ago. He's always been known for his bravery. That's why the tiger statue was considered unsuitable to represent the famous figure. We're kind of sad to see smiley tiger leave, are you? See you in another life, tiger!